Why stone?
We live and love stone as a material which is millions of years old and on the basis of which we manufacture ultra-precise machine components and complete systems for many everyday products. We process granite in all sizes to form machine components with very good thermal and vibration-damping properties. We attribute top priority to success, further development, and innovation for our customers. We support universities, manufacturers of machines, and research facilities in particular in a partnership-based manner with the goal of supporting their economic and innovative success.
What we do for you
As an owner-managed family company, REITZ covers the following areas of performance:
Machine beds and components made of granite or based on concrete for a wide variety of applications in precision engineering as well as for measuring and test benches.

Customised project management in line with your requirements from production, assembly, setup and commissioning of your product right through to an excellent service.

As an expert in natural hard stone and concrete, we support you in our capacity as consultant and service-provider in the development and manufacture of your product.

Precision machining of machine components made of ceramic.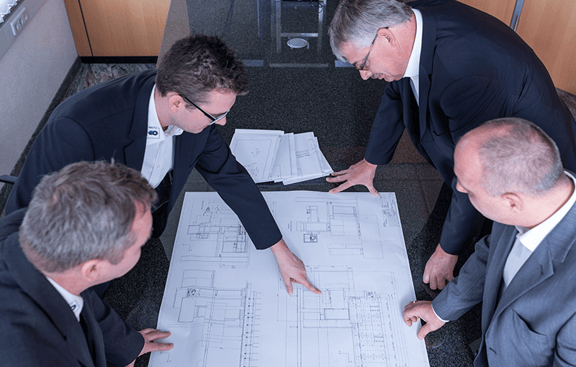 For more than 60 years we have been experts in the field of processing natural hard stone. A tradition of which we are proud and which obliges us at the same time.
Compared to steel, natural hard stone granite offers clear advantages in terms of the required precision in the micro range due to its low coefficient of thermal expansion, its abrasion resistance and its low thermal conductivity. Added to this is the high vibration damping of the material. These are properties that leading companies from the fields of mechanical engineering, optics and metrology rely on when selecting materials for high-precision machine components.
For more than 60 years, we have been experts in processing natural hard stone. A tradition of which we are proud and to which we are committed.
As a natural hard stone and on account of its low thermal coefficient of expansion, abrasion resistance and low thermal conductivity, granite displays significant advantages over steel in terms of the precision required in the micro-range. These advantages are also supplemented by the high level of vibration damping offered by the material. These are characteristics on which leading companies in the areas of machine construction, optics and measuring technology rely when choosing material for ultra-precise machine components.
Focusing on your idea
We always focus on your idea. Following an analysis of your requirements, we select the right material:
Granite or concrete? Our experts make customer-specific decisions depending on the respective application.

Variety of materials with almost identical manufacturing methods.

We achieve ultra-precision to 1 μ!
Our machine components are supplemented by a wide range of services: From consulting through to construction, our mechanical engineers transform your idea into a concept.
Values-based corporate culture
For more than 60 years, REITZ has stood for tradition and modernity – these are the values which we are committed to. We see ourselves as a builder of bridges between these two worlds. Collaboration based on values is practiced in our family-managed company. Only this way is it possible to create a working environment for innovative ideas and excellent results.
Product quality of maximum precision
With our know-how, we implement individual customer requirements to achieve efficient solutions. REITZ specialises in planning, building and manufacturing ultra-precise machine beds and machine components made of granite. In this process, we benefit equally from our employees' expertise and motivation and from the deployment of state-of-the-art technologies and processing machines in our manufacturing centre in Aßlar.
Consider our REITZ TEC QUALITY CLAIM: In an effort to comply with our demands for maximum product quality, workpieces are finished in fully air-conditioned precision measurement rooms spanning 1,500 m². Only this way can consistent and reproducible accuracy be ensured.
Our team
Our team comprises approx. 125 employees, of whom around 10 work in administration and approx. 120 in production. REITZ offers a wide variety of professions: We employ people with manual skills who are willing to learn new things. Production usually involves machine operators, cutting machine operators, lathe operators / milling cutters, industrial mechanics with CNC experience, electricians or metalworkers. We also conduct in-house further training courses for lappers. We train young people with an interest in learning as industrial mechanics specialising in milling.