Project development
We develop customised all-in-one systems!
We see ourselves as a comprehensive service-provider and support our customers even ahead of commencement of production.

Leading suppliers in the areas of industrial measurement technology, the optical industry, and machine and plant construction rely on our competence: innovative and customised solutions in granite.

Customers benefit from the extensive experience offered by our mechanical engineers.
In-depth knowledge of the market and industry mean that we are in a position to not only realise machines in components, assemblies or in their entirety, but also implement the entire process for our customers from the idea and solution-finding stage through to commissioning of the finished machine – professionally and independently. Throughout each stage, the focus is always on your application and your requirements.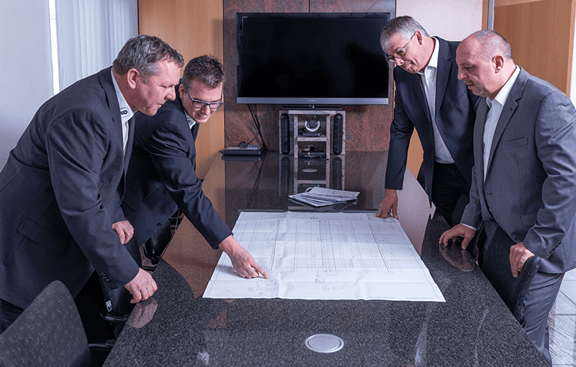 From enquiries through to service
As an innovative partner, REITZ offers customised complete solutions for industrial measurement technology, the optical industry, and plant and machine construction:
On receiving an enquiry, we conduct a joint briefing to discuss the plans, application and possibilities.

Following a feasibility study and cost approval, we draw up technical specifications and construction plans before the requisite parts are ordered by our Purchasing Department.

Construction is carried out by experienced engineers.
Mechanical and electric assembly is followed by commissioning and setup at the customer's site.

The process is rounded off with detailed documentation.

Service and maintenance contracts go without saying.
Sample project
OptoTech/UPG 2000 CNC
The 8-axle UPG 2000 CNC ultra-precision grinding and polishing centre supplied by OptoTech Optikmaschinen GmbH was developed for processing telescope mirrors with diameters of up to 2 metres. It combines the processing techniques of grinding, lapping, polishing and measuring, thereby facilitating full processing of the workpiece.
The ultra-precise machine base made from granite measures 5350 x 3400 x 6800 mm. Supplemented by 2 supports and the crossbeam in the same material, it weighs in at a total of approx. 60 tonnes.
The workpiece carrier comprises a linear-motion carriage with a stroke of 3500 mm and a traverse speed of 12 metres per minute. The workpiece carrier is mounted ultra rigidly and hydrostatically, and features an integrated ram with a stroke of 300 mm.